17th Annual Zearing Days Parade
2017 Parade Theme - "My Big Backyard"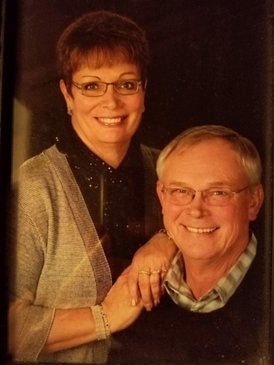 Norman & Vickie Tjelmeland have been selected as the "2017 Zearing Days Parade Grand Marshals".

Norman & Vickie Tjelmeland have been residents of Zearing for 42 years. In those 42 years raising their family and contributing to the community they call home.
Norman served in the U.S. Army during the Vietnam conflict. Norman has served on the Zearing Fire Department for 42 years while also serving on the Parish Council at St. Gabriel's church & has held several Zearing City Council seats. Norman farmed with his father in the Zearing community and then later farmed on his own. Norman is currently the Commander of the McCallsburg American Legion.
Vickie has served on the Zearing Library Board and is a member of the Ladies Guild at St. Gabriel's church in Zearing. Vickie was a teacher for the Colo-NESCO school district for 27 years.

Since both retiring their days are filled with their 8 grandchildren & their many events.
In their spare time, they enjoy traveling. If any help is needed in the community, Norman & Vickie are always there to lend a hand. Truly leaders of the Community that have influenced many people. Thank you, Norman & Vickie


Zearing Days Parade Information:

The parade begins at 10:30am on the west end of Main Street and runs the entire length of Main Street.

Pre-registration for entries is not required. Printable Parade Entry forms are available here. Please bring with you the morning of the parade or pick one up when you get there.

No entry fee and the order of the lineup is first come first serve, so plan accordingly. Please be respectful to others.

Registration and lineup begin at the "Old Caseys" at the west end of Main Street on the corner of Main Street and Highway 65 (Just south of the new Zearing sign).
Prize awarded for the best parade float! Start designing your float now.
Parade Route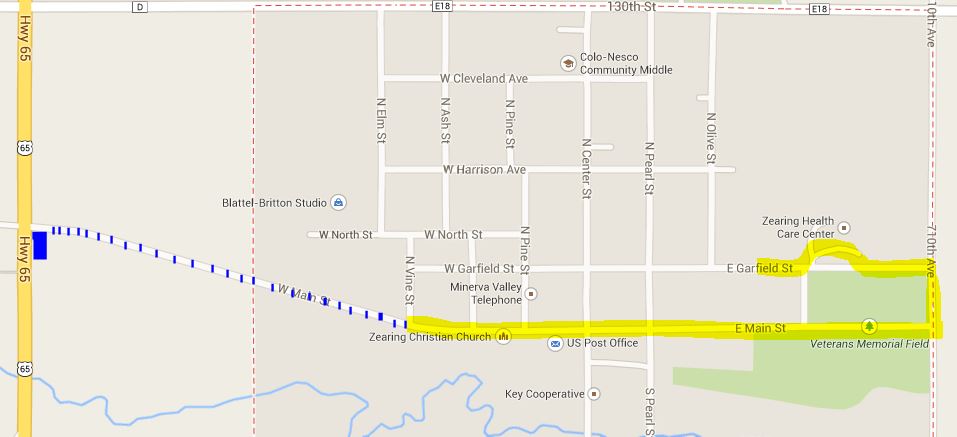 Key:
Blue Rectangle- Parade check in (pick up forms if needed)
Blue dashes- Parade line up (Please note the parade does not line up on N. Vine St.)
Yellow- Parade Route (please note 710th is a gravel road; however we ask that you follow the route, so residents at Zearing Health Care Center can also view the parade)